JOHNSON & JOHNSON Family of Companies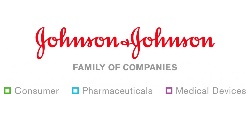 Johnson & Johnson Family of Companies
Caring for the world, one person at a time... inspires and unites the people of Johnson & Johnson. We embrace research and science - bringing innovative ideas, products and services to advance the health and well-being of people. Employees of the Johnson & Johnson Family of Companies work with partners in health care to touch the lives of over a billion people every day, throughout the world.
Johnson & Johnson companies are uniquely positioned to perform well in the rapidly changing healthcare landscape. We focus on delivering meaningful innovations to patients and customers, with a solid pipeline of new and innovative products. Throughout our businesses, we remain committed to the values embodied in "Our Credo" and management based on a core set of Strategic Principles, including:
Broadly based in human healthcare
Decentralized management structure
Long-term focus
Credo-based decision making
We have more than 250 operating companies in more than 60 countries employing nearly 128, 000 people. Our worldwide headquarters is in New Brunswick, New Jersey, USA.
Our broad geographic reach provides the ability to rapidly introduce new products in markets around the world. Approximately 70 percent of sales are derived from products/businesses that have a #1 or #2 global market share position. We have remained strong by continuing to deploy clear strategies for meeting customers' needs and developing our businesses. For example: - Our Consumer personal care businesses expand through organic development of iconic brands, focus on new ventures, and strong commitment to emerging markets. Strategic acquisitions are also important drivers of growth for the Consumer business segment. - Our Medical Devices companies, which comprise the largest medical device business in the world, proactively address medical needs through new products and strategic licensing, acquisitions, and collaborations. Growth in major emerging markets has been at the double-digit level. – Our Pharmaceuticals pipeline is diverse and well-balanced in both biopharmaceuticals and small molecules, covering therapeutic areas with high unmet needs.
In Italy three Companies of the J&J Family represent the three Business segments:
1. Consumer - Johnson & Johnson SpA
2. Medical Devices - Johnson & Johnson Medical SpA
3. Pharmaceutical - Janssen-Cilag SpA

Consumer - Johnson & Johnson SpA
Johnson & Johnson Spa represents the Consumer Segment of Johnson & Johnson in Italy. It includes a broad range of products used in the baby care, skin care, oral care, wound care, and women's healthcare fields, as well as nutritional and over-the-counter pharmaceutical products and wellness and prevention platforms. This segment offers career opportunities with many of the world's most well-known and respected brands-providing you a solid grounding in the dynamics of strong customer focus.
The headquarters of the Sales & Commercial Company and plant are both located in Santa Palomba (Pomezia - Rome).
The manufacturing plant is the largest and most technologically advanced for the production of liquids, sanitary pads and cotton buds, production is targeted to countries around the world and is a center of excellence at world level
Pharmaceutical - Janssen-Cilag SpA
Janssen, that represents the Pharmaceutical Segment in Italy, has a broad portfolio focused on unmet medical needs across several therapeutic areas. It includes products in the anti-infective, antipsychotic, cardiovascular, contraceptive, dermatology, gastrointestinal, hematology, immunology, neurology, oncology, pain management, urology, and virology fields. Driven by a strong commitment to patients, Janssen brings innovative products, services and solutions to people throughout the world. Recognizing the impact of serious conditions on people's lives, the aim is to empower people through disease awareness, education and access to quality care. The research and development strategy focuses on identifying medical needs, and harnessing the best science in the world, whether from our own laboratories, or through strategic relationships and collaborations.
The headquarters of the Sales & Marketing Company is located in Cologno Monzese (Milan), while in Borgo San Michele (Latina) is the only manufacturing plant in Italy.
Webinar
Evento
Location
Tipo
Dettagli